New Energy Department study reflects the president's vision to reshape the U.S. energy infrastructure and cut greenhouse gases.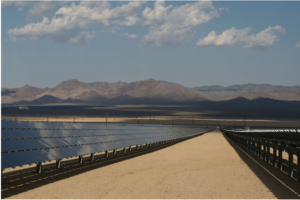 September 8, 2021 at 4:17 p.m. EDT
The move, which would transform the nation's energy industry and infrastructure, shows how President Biden is determined to reshape the economy and cut U.S. greenhouse gas emissions in the face of staunch political opposition.
That analysis, however, assumes Congress would fund several of the clean energy investments and policies that Biden has proposed but which have yet to be enacted.
"Achieving this bright future requires a massive and equitable deployment of renewable energy and strong decarbonization polices — exactly what is laid out in the bipartisan Infrastructure Investment and Jobs Act and President Biden's Build Back Better agenda," Granholm said in a statement.
Biden emphasized the need to achieve his goal of reaching net-zero carbon emissions by 2050 after touring damage wrought by Hurricane Ida in New York and New Jersey on Tuesday.
"We're going to be able to do these things, but we've got to move," he said. "We've got to move."
"And so, folks, this summer alone, communities with over 100 million Americans … have been struck by extreme weather," he added. "One in every three Americans has been victimized by severe weather — the hurricanes along the Gulf, the East Coast, up through this community. And I saw the human and physical costs firsthand, as I said, in Louisiana."
The preliminary injunction, in June, blocked the administration's policy of pausing the sale of new oil and gas leases on federal land while reviewing how to reform the program. Interior has also scheduled several onshore oil and gas auctions for next February.
"An announcement on increasing renewable energy potential, no matter how impressive, must be followed by an announcement that details how this administration plans to manage public lands for climate and not for oil and gas," said Chase Huntley, vice president for strategy and results at the Wilderness Society, an advocacy group. "Especially as the administration moves to restart onshore and offshore leasing in direct conflict with a climate-focused agenda."
Source: https://www.washingtonpost.com/climate-environment/2021/09/08/biden-solar-climate-change/